French international Karim Benzema has been rewarded for a sensational season for Real Madrid after he was named the recipient of the UEFA Men's Player of the Year. The former Lyon attacker bagged the award during the group stage draw as far as this season's UEFA Champions League (UCL) draw is concerned. The latest UCL group stage draw was held in Istanbul, the Turkish capital, on Thursday. The final of this season's Champions League will take place in the same city in June 2023.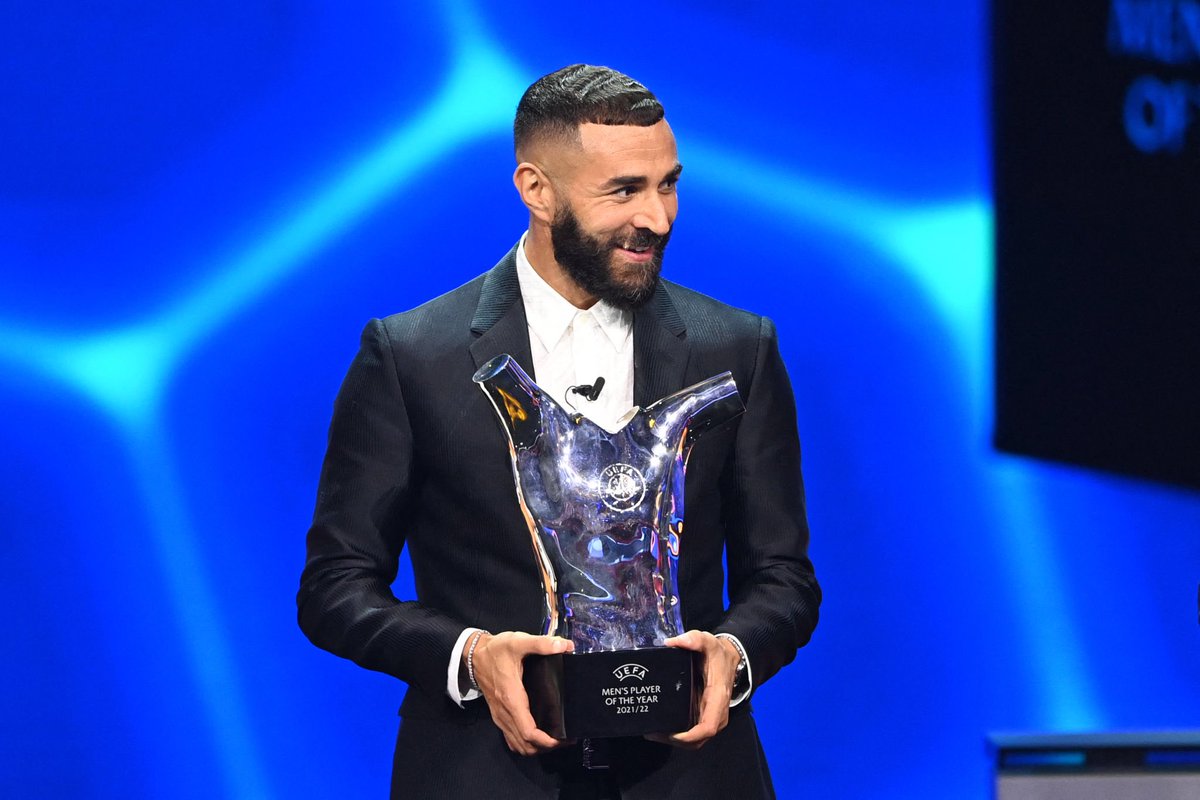 Benzema was the main man for Real Madrid as they won the Champions League title for the first time in four seasons. The Frenchman scored 15 goals to propel Real Madrid to another Champions League win. He has now won five Champions League titles in his professional football career and they are all in Real Madrid colours.
Frenchman Benzema had five goals as at the end of the Champions League group stage last season before he burst into life with ten goals in the knockout stage. Benzema failed to score in the first leg of the last 16 tie with Paris Saint Germain (PSG) which ended 1-0 for the hosts and French team. At home, Real Madrid were able to recover from the deficit via a 3-1 victory thanks to the three goals from Benzema as he took his tally to eight goals. Benzema and Real Madrid sealed their place in the quarterfinals via a 3-2 aggregate victory over PSG.
In the quarterfinals, Benzema scored three times in the first leg on the way to a 3-1 away win over holders Chelsea thereby taking his tally to 11 goals. In the second leg at home, Benzema scored the decisive goal in extra time in a 3-2 loss for his team. Real Madrid progressed to the final four via a 5-4 aggregate win. In the semifinals, Benzema scored twice in the 4-3 loss to hosts Manchester City in the first leg. He then scored one of the goals as Real Madrid overturned the deficit at home in the second leg via a 3-1 win at the end of extra time for a 6-5 aggregate win. Benzema had 15 goals at the end of the second leg against City in the semifinals. He's expected to be part of the World Cup 2022 tournament. Benzema and France are the defending champions ahead of the World Cup 2022 tournament in Qatar. Benzema and PSG superstar KylianMbappe are expected to spearhead the French quest to retain their title at the World Cup 2022 tournament.
In the final, Karim Benzema failed to score with fellow Real Madrid attacker Vinicius Junior getting the only goal in a 1-0 win over Liverpool.